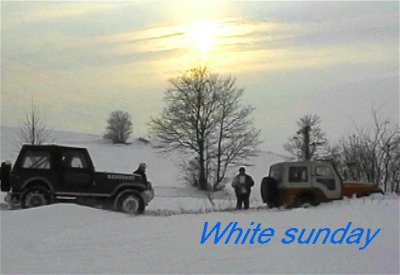 We had to wait very long for snow this year. When it started to snow on the evening of our monthly meeting we decided to spend the Sunday outdoors. After a hearty breakfast 3 Jeeps (Herbert, Herrmann + Familie, Ronnie), 2 Suzuki (Johannes+Frau, Rudi + Sohn), a RAV ( Heinz) and my Montero set out to conquer the far white country. Our first try ended at the foot of a giant snowdrift. After this we found only carefully cleaned roads until we reached the ascent to the Buchberg where we got exactly what we expected. The first mile covered our rigs with powdery snow then we were swallowed by the first snowdrift. "Jeeps first". So Herrmann dug into the white mountains with his CJ5 V8. Modesty does it. You simply have to release the accelerator whenever you feel the wheels loosing grip. That's the only chance for a safe retreat. Whoever guns the engine in this situation will only gain knowledge of the things that hide below including a nice workout with his spade.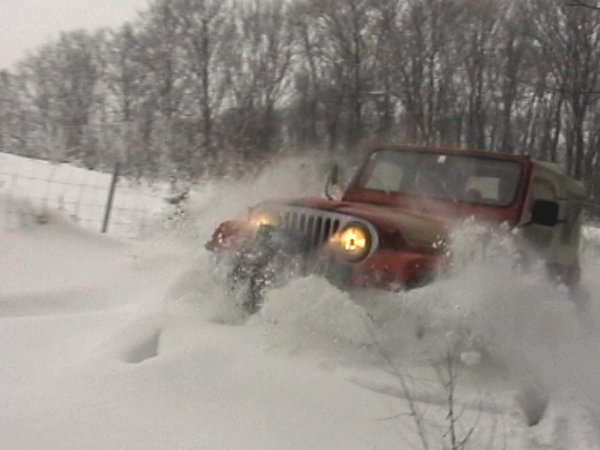 | | |
| --- | --- |
| | |
Farther uphill the big uncle of our small snowdrifts was still waiting for us. Each of us had sample opportunity to bury his wheels and sometimes half of the car without a chance to get through. Later we descended to have a try at the other side of the hill. There a track led some miles through the wood. The steepest part came first and the jeeps made it either with power or the impressive feeling of the automatic transmission. You could hear the Suzukis whining far through the wood but the snow was still to deep for them and they just polished the tracks.
| | |
| --- | --- |
| | |
Heinz eased his automatic geared RAV4 up and the drivers of the Suzukis had a very sad look on their faces. I climbed the mountain in third low keeping the powerful diesel of the Montero in low revs. After some time even the Suzi's made it and we would have tried to fight the snowdrifts on the other side. The thought of getting stuck downhill and having to winch our vehicles back up again drove us back . Just in time to have a great lunch in a rural inn.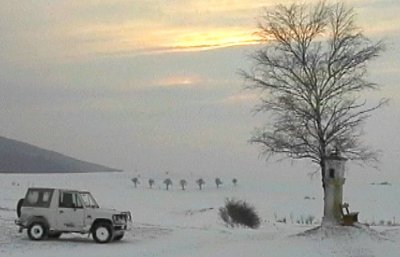 The food and warmth made us try our luck on a trail across wide fields. First we rushed through the snow, then we smelled the next drifts. Herrmann wanted to make sure and passed us. Some minutes later he dug his jeep deep into the soft snow. We had to take a detour across the fields. Back on the trail Herbert got caught when he hit the deepest rut all around. Herrmann parked his rig just in the same rut and I buried my Montero only some inches beside the tracks. This was the best proof never to set out on a tour like this alone. We winched, pushed and dug until we reached the paved road again.