Cross Country Tour.
There are a lot of landowners and hunters who use 4x4 cars and who want to know what this vehicles are capable of. We asked Felix, who takes the lease of hunting near the thermal springs of Waltersdorf, to take us along through the wood. After some miles over sunny hills he led us to soft and soggy trails where each of us had the chance to get stuck. And we are proud, never to waste a chance.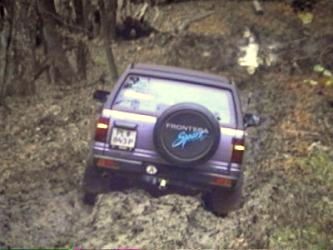 Martin in the other Mitsubishi found out, that a tractor's wheels leave slightly deeper ruts than his 31" could manage. To pull him free I had to find a path besides the trail. At the same place Rudi freed his Frontera by applying the ABS brakes while spinning the wheels. The ABS locked the diffs strong enough to get him out of the ruts.
We spent the evening at the thermal springs to relax and talk about this pleasant tour and our next plans.