Small trails, huge Alps.
Two fathers, Rudi and me, and two sons, Roland and Martin prepared their 4x4's (Frontera + Cherokee) and loaded them with tents, sleeping bags and other valuables of outdoor life. Then we set out south to Carinthia.
After a good night's sleep at Klaus Pribernig`s Altossiach camp we hit the mountains and crossed the Plöckenpass to Italy. We left the main road Nr. 465 at Ravascletto. Heading north a narrow road quickly climbed the mountainside. First we crossed dense wood then the trail led us across wide and breathtakingly steep meadows. Soon pillows of drifting fog accompanied us down to Tualis.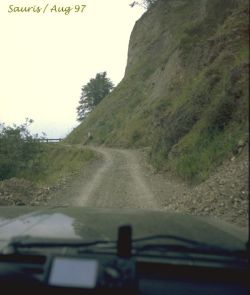 Theo Gerstl and Luitpold Leeb wrote a book about cross country trails in the Italian Alps. There we found an inviting chapter about lake Sauris. We had to squeeze through some narrow tunnels to reach the dam of the lake. Then we fetched our book and followed the description along stony mountain-paths. The Italians found a sympathetic solution for this remote trails. Wherever it is not forbidden by road-sign you can drive every path. Appreciating this way of drive we used the trails "Treading Lightly" and found a lot of joy.
A hearty pizza and some red wine helped us through the rainy night at Forni. On our way south we followed the tracks of a rally over Passo Tramonti. Black tracks along and beside hairpin turns suggested, there would be a lot of work to do for the mechanics.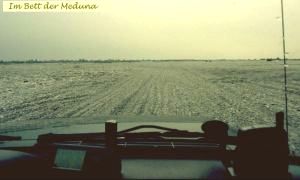 With GPS and compass we made our way into the valley of the Meduna. A vast stony plain was waiting for us. "Follow the tracks or you'll get stuck", our book said. I searched for some tracks leading across the gravel and was very busy to keep the swaying cherokee straight in the dry river. "Who made these dammned wide tracks", I asked my son. He just pointed sideways and we looked into the barrel of a tank. The Italian army found the riverbed useful for their training. We didn't want them to feel embarrassed, so we turned east.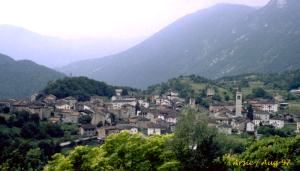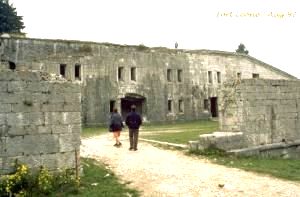 With a good portion of ham from San Daniele del Friuli we set out for Arsie. There we climbed up to Fort Leone again following a very accurate roadbook. Fog was drifting across the mountains when we crawled along the walls of this WW I - Fort. Today the stones can tell a lot of impressing stories. From 1915 on it must have been a place of brutal nature and rather cruel fights.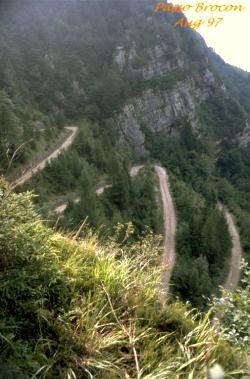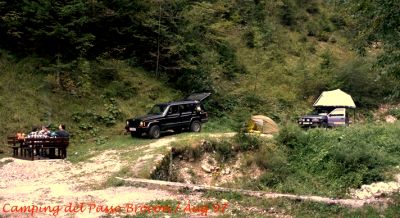 Searching for a campground we drove across vast meadows through the nice town of Castello Tesino until we reached the foot of Passo Brocon. Some nice people had built a rest area beside the old road. This was the appropriate place for our tents and a hearty evening. The morning sun lit our way up narrow hairpin turns to the Passo Brocon. There we reached the end of our trails. 700km of good road led us back home. Maybe due to our obsession we crossed the Grossglockner on our way. Anyway we'll be back to these small roads next August.